Within the framework of mutual collaboration among the Mediterranean countries, olivenews.gr has correpended to olimercas.es demand for an article describing the current and next year's situation about the Greek olive oil and table olives market.
The Greek Market of olive oil
The olive oil sector in Greece experienced an exceptionally successful year during the marketing period of 2022/23. This fact can be attributed to two primary factors.
Firstly, Greece witnessed abundant production, yielding approximately 350,000 tons of olive oil, the 70% of them classified as extra virgin. This outcome was facilitated by favorable weather conditions, including a cold winter and spring rainfalls. We observe that last year climate change affected the Western and Central Mediterranean but stopped at the Adriatic Sea.
Secondly, the market prices skyrocketed due to a deficit in production, primarily in Spain, but also in Portugal, Italy, and Tunisia to some extent. As of mid-July, in Greece, the premium extra virgin olive oil of 0,34 o stands at 8,326€/ton and 5,70€/kg for the lampante 5 o although prices are climbing almost every day.  Despite these figures, the crucial observation is the slow pace of transactions, occurring gradually as producers and olive mills are reluctant to sell. They firmly believe that prices will continue to rise indefinitely.
The current estimated stock stands at approximately 50,000 tons, making it challenging to predict the final bridging stocks at the end of the 2022/23 marketing year. Looking ahead to the upcoming harvest of 2023/24, experts unanimously anticipate a poor year for both the olive oil and table olive sectors. This projection can be attributed to two main factors: the biennial phase following an exceptionally good year and the unusually warm winter of 2022/23.
Specifically, for the 2023/24 marketing year, analysts project significantly reduced yields in various regions. Crete is expected to produce 30,000 – 40,000 tons compared to the 100,000 tons harvested this year, while the Peloponnese region, (mainly Messinia and Lakonia), is projected to yield 70,000 tons instead of 120,000 tons. The remaining areas of Greece, encompassing Central and Northern Greece, i.e. Chalkidiki, Macedonia, Thrace, the Aegean islands, and the Ionian islands, are estimated to produce 60,000 tons, down from 130,000 tons this year.
Overall, these projections indicate a total production of 170,000-180,000 tons for the upcoming year, marking a significant decline compared to this year's production and setting a negative record for Greek olive oil.
The behavior of table olive producers, particularly those cultivating Κonservolia, Chalkidiki, and Kalamon varieties, remains uncertain. These varieties are currently experiencing a negligible production, with trees almost naked from olive fruits. It is highly likely that these olives will be harvested at the lowest cost and sent to olive mills, given that the prices of olive oil are expected to remain high.
(central photo by Andreas Smaragdis)
Grecia pronostica una mala campaña de aceite de oliva 2023/24
Con bajadas en torno al 50%, respecto a la campaña actual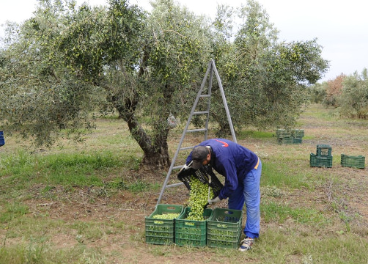 Olimerca.- El sector del aceite de oliva en Grecia se ha mostrado muy satisfecho por el balance de esta campaña gracias a dos factores:
Grecia fue testigo de una abundante producción, con unas 350.000 toneladas de aceite de oliva, el 70% de ellas clasificadas como virgen extra. Este resultado fue posible gracias a las condiciones climáticas favorables, incluido un invierno frío y lluvias primaverales. Así, se ha observado que el año pasado el cambio climático afectó al Mediterráneo Occidental y Central pero se detuvo en el Mar Adriático.

En segundo lugar, los precios de mercado se dispararon debido al déficit de producción, principalmente en España, pero también en cierta medida en Portugal, Italia y Túnez. A mediados de julio, en Grecia, el aceite de oliva virgen extra premium se sitúa en 8.326 €/ton y 5,70 €/kg el lampante, aunque los precios suben casi a diario. A pesar de estas cifras, la observación crucial es la lentitud de las transacciones, que se producen gradualmente en gran medida debido a que los productores y las almazaras se muestran reacios a vender. Creen firmemente que los precios seguirán subiendo indefinidamente.
Según informa Vassilis Zampounis, Agroeconomist, Editor of olivenews.gr a Olimera, el stock estimado actual es de aproximadamente 50.000 toneladas, lo que dificulta predecir las existencias puente finales al final de la campaña de comercialización 2022/23. De cara a la próxima cosecha de 2023/24, los expertos anticipan unánimemente un mal año tanto para el sector del aceite de oliva como para el de la aceituna de mesa. Esta proyección se puede atribuir a dos factores principales: la fase bienal después de un año excepcionalmente bueno y el invierno inusualmente cálido de 2022/23.
Específicamente, para el año comercial 2023/24, los analistas proyectan rendimientos significativamente reducidos en varias regiones
Específicamente, para el año comercial 2023/24, los analistas proyectan rendimientos significativamente reducidos en varias regiones. Se espera que Creta produzca entre 30 000 y 40 000 toneladas en comparación con las 100 000 toneladas cosechadas este año, mientras que la región del Peloponeso (principalmente Mesenia y Laconia) producirá 70 000 toneladas en lugar de 120 000 toneladas. Se estima que las áreas restantes de Grecia, que abarcan el centro y el norte de Grecia, es decir, Calcídica, Macedonia, Tracia, las islas del Egeo y las islas Jónicas, producirán 60.000 toneladas, frente a las 130.000 toneladas de este año.
En general, estas proyecciones indican una producción total de 170 000-180 000 toneladas para el próximo año, lo que marca una disminución significativa de casi el 50% respecto a la producción de este año y establece un récord negativo para el aceite de oliva griego.
El comportamiento de los productores de aceitunas de mesa, en particular los que cultivan las variedades Κonservolia, Chalkidiki y Kalamon, sigue siendo incierto. Estas variedades están experimentando actualmente una producción insignificante, con árboles casi desnudos de frutos de aceituna. Es muy probable que estas aceitunas se recolecten al menor costo y se envíen a las almazaras, dado que se espera que los precios del aceite de oliva se mantengan altos.